Everything I know about early literacy, I learned from Mem Fox.
Our first child was born in the summer of 2008, about 14 weeks before her due date. I spent the first six weeks of her life (AKA "maternity leave") sitting in an uncomfortable chair by her isolette. I couldn't hold her or feed her, pick out her clothes, or doing anything that a new mother gets to do, really.
This was pre-smartphone (and we couldn't have our phones on in the NICU anyway). I passed the time by working on a cross-stitch project for her "someday" bedroom and reading tons of books.
One of the first books I remember reading during those long summer days was Reading Magic by Mem Fox.
As an elementary school teacher, I knew all about early literacy and helping kids fall in love with books in a classroom setting. As a first time mom, though, I had very little clue about what I should be doing with my newborn daughter to set a good foundation for early literacy.
Mem's sweet words showed me the ONE thing that I COULD do in those early days of our daughter's long NICU stay: I could read to her.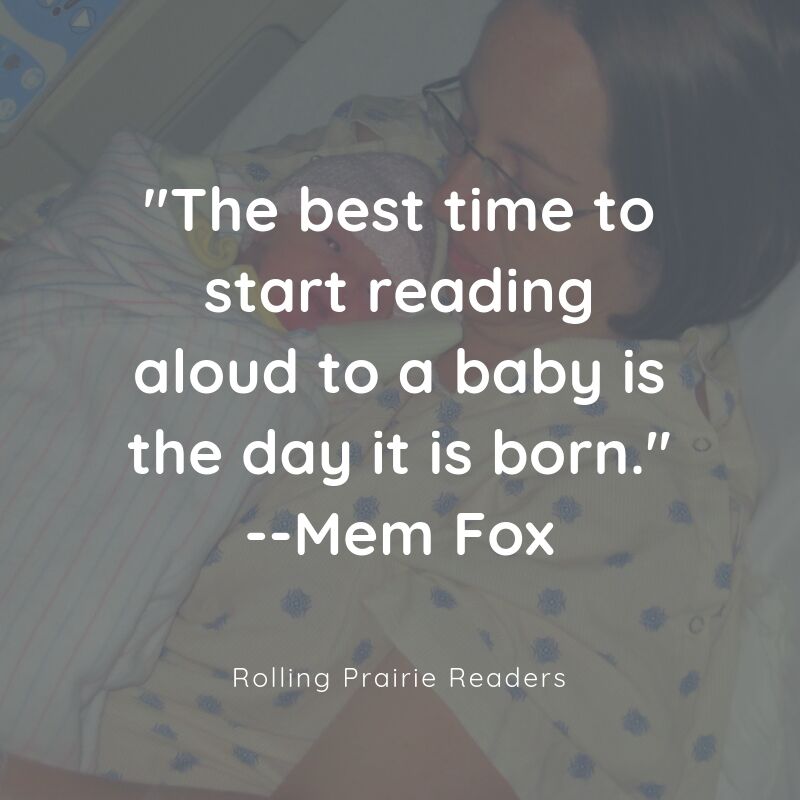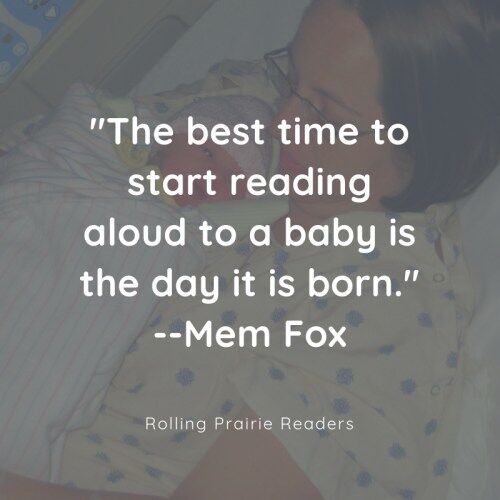 I brought in tote bags of picture books from my years in the classroom and set them up on the shelf next to her isolette. I read book after book to her, and then I switched to chapter books to make them last longer. We read Ramona the Brave and Gooney Bird Greene. I read to her from my own books, too.
Before long, I was able to take her out of her isolette, feed her small bottles of milk, and pick out her clothes. But our favorite activity to do together was READ. The foundation had been set.
By the time our second daughter was born (on time) three years later, I was ready for her! I packed Mem's beautiful book Ten Little Fingers and Ten Little Toes in my hospital bag. Within hours of her delivery, I was reading aloud.
---
I've talked about Mem Fox and Reading Magic here on the blog before.
Today, I want to talk about the importance of nursery rhymes, which she covers in chapter 10.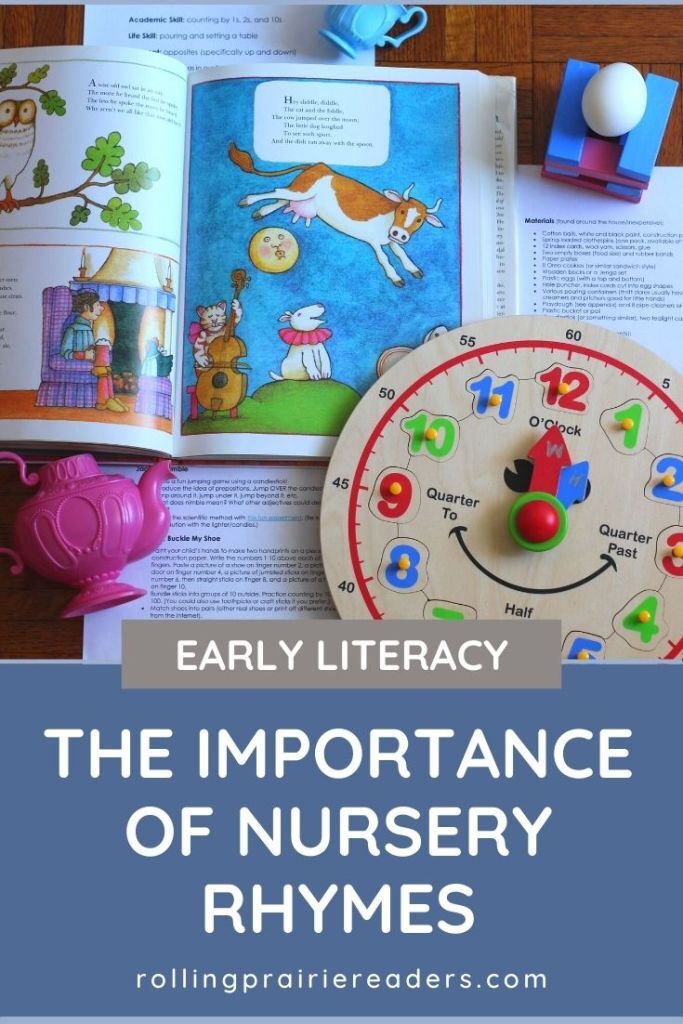 We all know that young children have short attention spans, which makes songs and short rhymes a perfect fit. And as Mem says, "Songs and rhymes provide comforting rhythms in children's early lives and also expose kids to gorgeous forms of language. They are a natural extension to the heartbeat of the mother and the rhythmic rocking of a child in loving arms or in a cradle."
Songs and rhymes allow busy families to play with language on the go:
in the car

waiting in line at the grocery store

even during those countless bathroom hours while potty-training!
Nursery rhymes can help with preschool literacy development, too! Young children learn new vocabulary and begin to anticipate the missing rhyming words at the end of each line.
"From songs [and nursery rhymes], children learn words, sentences, rhythm, rhyme, and repetition, all of which they'll find later in the books they read."

–Mem Fox, Reading Magic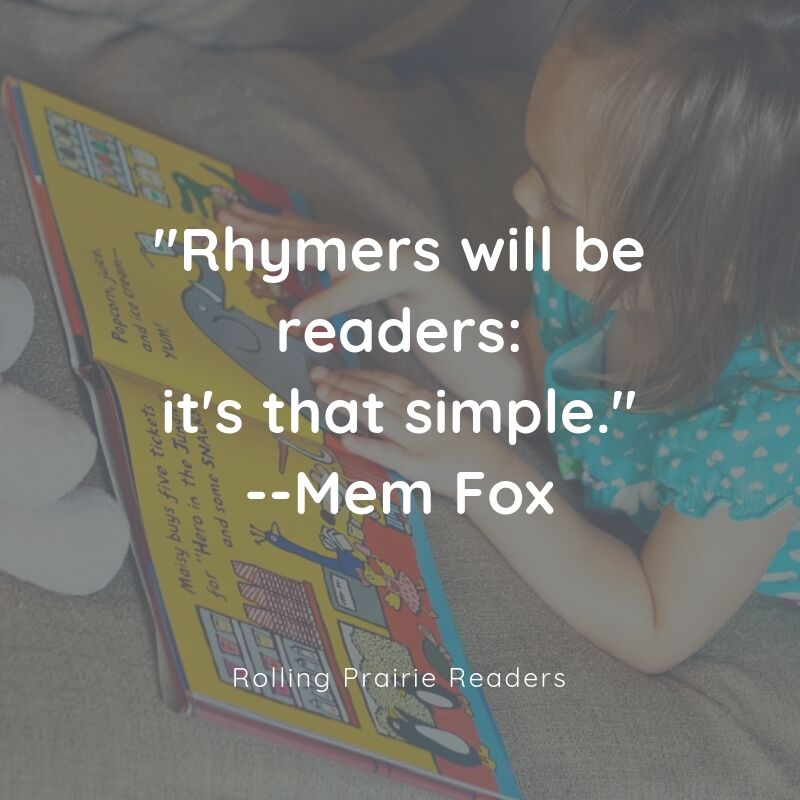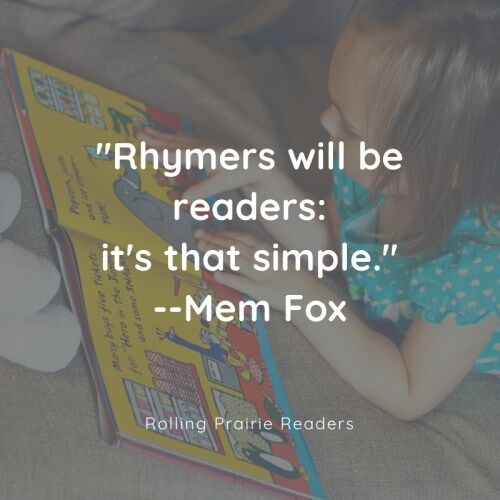 The importance of nursery rhymes cannot be overstated or underestimated. According to Reading Magic, "experts in literacy development have discovered that if children know eight nursery rhymes by the time they're four years old, they're usually among the best readers by the time they're eight."
How do we incorporate nursery rhymes into every day play?
Invest in a quality anthology of Mother Goose or other rhymes.
Write a few on index cards and place them around your home.

Put one on the bathroom sink to recite while washing hands.
Hang one above the changing table to make wiggly changes a little easier.
Keep one or two in the diaper bag for the next time you're stuck in a waiting room.

Choose one rhyme a month to focus on together. Plan a few fun extension activities that coordinate nicely, like a relay race up a hill for Jack and Jill.
Add more rhymes to your child's educational playlist and let it run during independent play time.
"Once children have masses of rhythmic gems like these in their heads, they'll have a huge store of information to bring to the task of learning to read, a nice fat bank of language: words, phrases, structures, and grammar."

–Mem Fox, Reading Magic
What are your thoughts on the importance of nursery rhymes?
---
Watch the Facebook LIVE on this topic, and then check out the nursery rhymes FREEBIE in our Resource Library!
---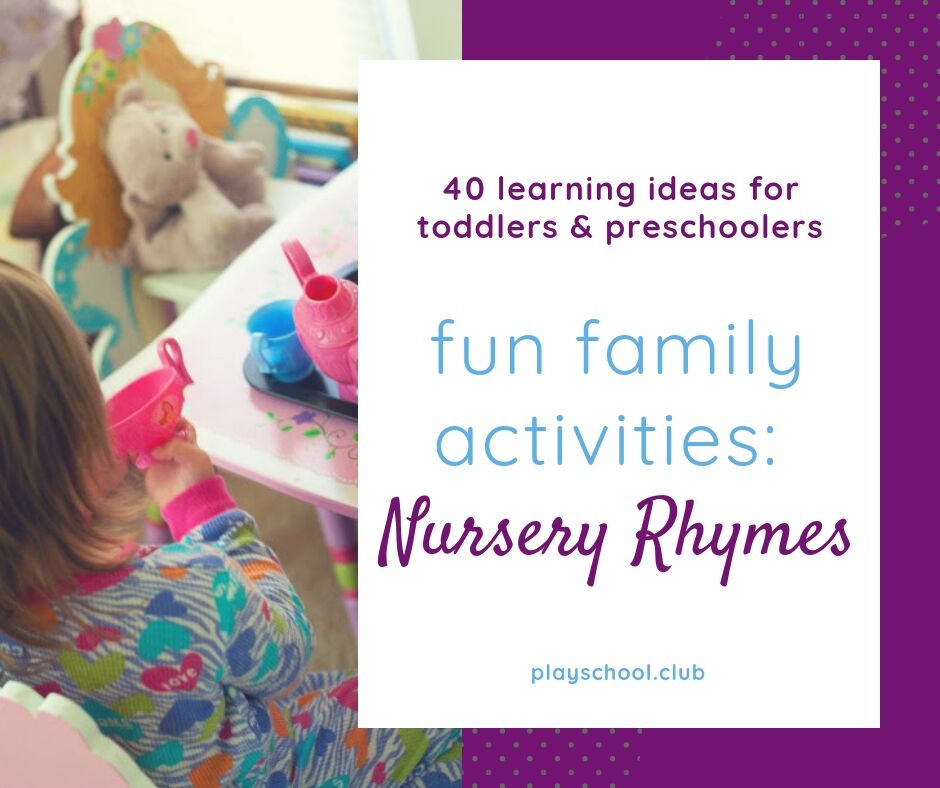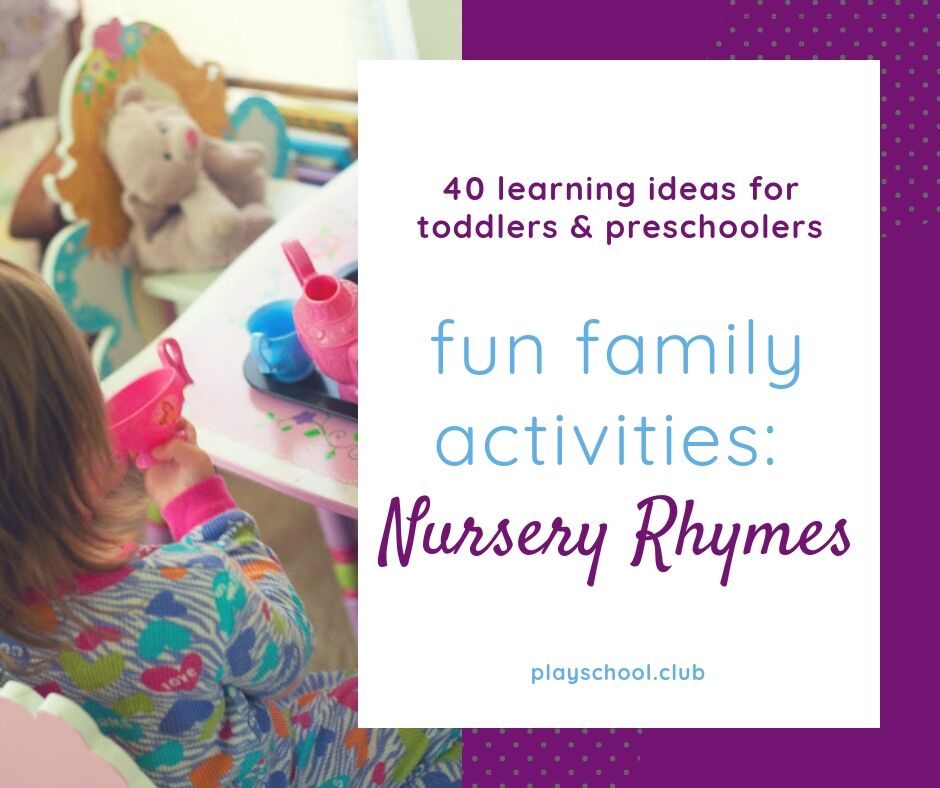 We've just released our NEW nursery rhyme Family Activity Guide for busy families with kiddos ages 2-6. There are 10 popular rhymes included, each with four FUN, hands-on learn activities that you can do any time of the year! Focus on one rhyme a month or do all forty activities in one unit study–the choice is up to you.
The guide is part of our affordable monthly subscription program, The Play School Club. Learn more here!