I had some truly wonderful history teachers throughout my years of schooling. Their collective gift for storytelling ignited a love for history that has continued to this day. With the help of the library and lots of traveling, I've been able to continue my studies as an adult and pass a passion for history down to my kids.
I usually enjoy putting together unit studies for our history lessons, finding good books and hands-on activities to excite and engage my children. When it comes to ancient history though — well, I'll be the first to admit I'm a bit in over my head.
I was recently given the opportunity to try out the Ancient History Intermediate Pack from Beautiful Feet Books. Since we had a great experience with the Modern American and World History Pack last year, I said yes immediately. I'm ecstatic that my 5th grader and 8th grader will be learning ancient history through literature together next year.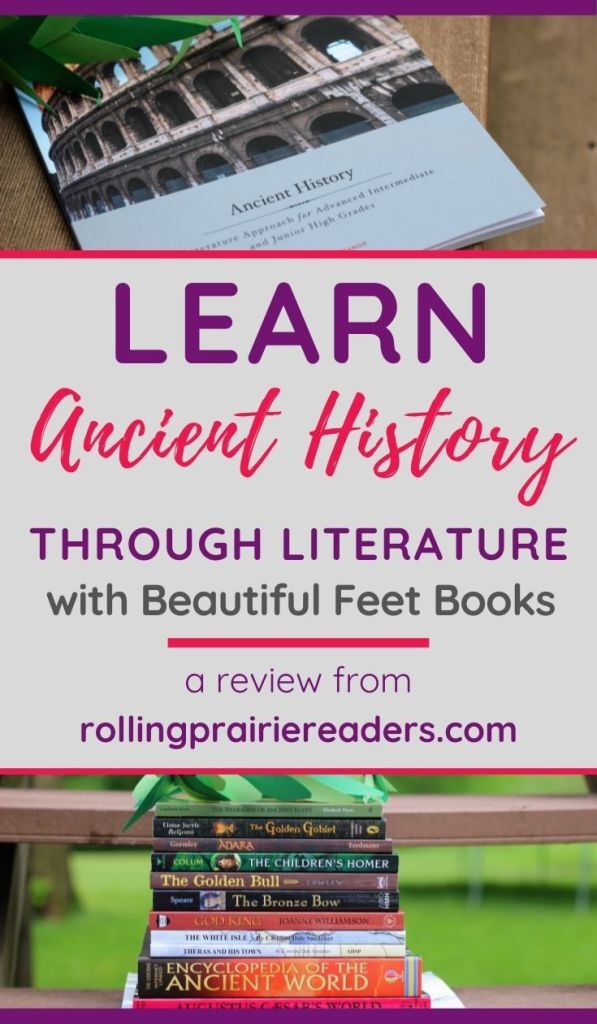 I received a free trial of this product and was compensated for my time writing the review, but all opinions are my own! Read our full disclosure policy here.
As you know (or can deduce from the title of our blog), our family loves books! Throughout our kids' lives, we have used read-aloud time to foster connection and ignite wonder.
Some of my favorite memories from my years as a student and a teacher involve read-alouds. My 3rd grade teacher, Mrs. Jones, read to us every afternoon after lunch. When I was in college, my children's literature professor read a chapter of Because of Winn-Dixie to end every class. And as a teacher, I read Louis Sachar's Holes to a group of engrossed 3rd and 4th graders every day.
It is my honest opinion that good books can change a child's life. And thankfully, Beautiful Feet Books agrees with me.
Beautiful Feet Books is a Charlotte Mason-inspired curriculum that teaches history through literature for a rich learning experience. It matches our family's philosophy of education perfectly:
MAKE LEARNING FUN WITH
good books,

hands-on activities,

and family adventures
We have done book-based learning since our girls were doing preschool at home. If you, like me, have ever struggled to find all the recommended books on a curriculum list, you will love the packs from Beautiful Feet Books. The Ancient History Intermediate Pack comes with all 13 books used in the curriculum, so we don't have to track them down at the library or search for them on used book sites.
And there's also a nice variety of fiction and non-fiction titles for kids who have different preferences! There are big thick books with colorful illustrations, chapter books written by historians, and even a couple of award-winning titles.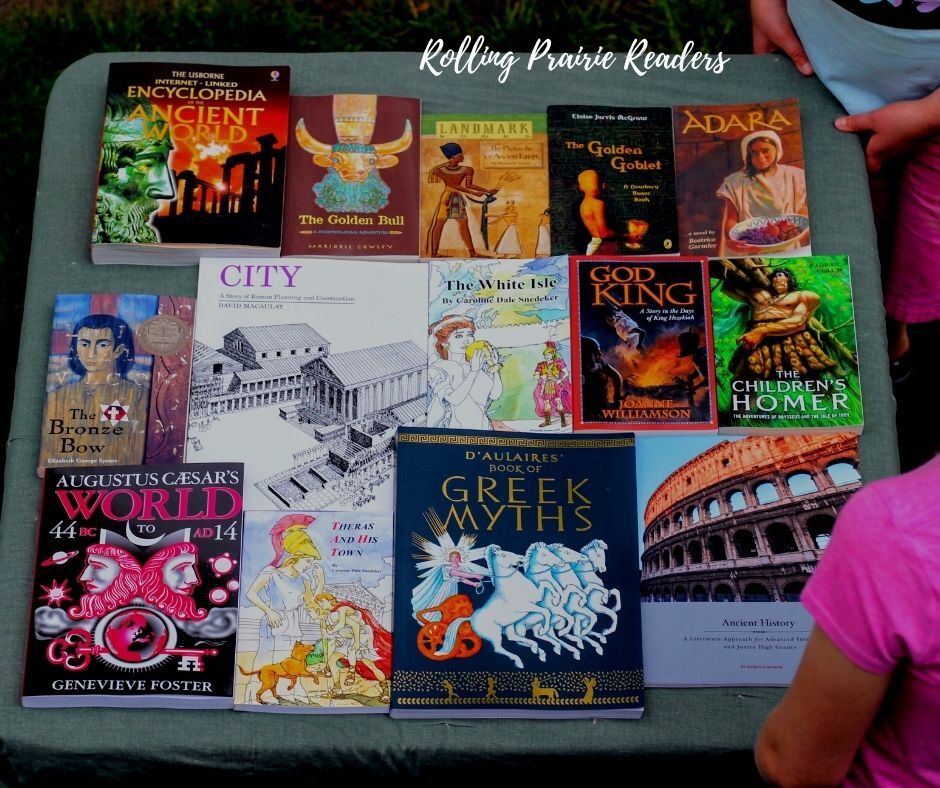 Ignite Wonder with Good Books
When the box of books arrived, my girls couldn't wait to open it! My younger daughter immediately started reading the Usborne Encyclopedia of the Ancient World. And our older daughter went straight for Adara. Meanwhile, I pulled out the teacher's guide and began thinking about our next year of history.
Isn't that what we all want: children who are excited and engaged in their learning? Because my children already LOVE to read, a literature approach to history is ideal. I'm especially excited to dive into the historical fiction titles and be transported to different lands and time periods.
"

My favorite is

the

Usborne Ancient Encyclopedia

!

I like encyclopedias because they present the information in an interesting way. I like that it does not give too much information on one page, and that it has some pictures, but not too many.

"

K, age 9
The Ancient History Intermediate Pack comes with an illustrated timeline to help students visualize the major historical events as they happened over thousands of years. Not only is the timeline a useful tool, but it's also a beautiful keepsake!
One of my favorite aspects of the Beautiful Feet Books is the flexible curriculum. The Teacher's Guide even acknowledges that every family is unique, encouraging parents: "Do not feel unduly bound to complete each step, do every activity, check out every recommended title from the library. Everything in this guide is meant to be a help to you the teacher, not a burden."
The guide contains suggestions for additional resources, many of which are available at the local library. Our favorites so far have been picture books like Pharoah's Boat and the 5,000-Year-Old Puzzle, which have allowed us to dip our toes into new waters. We've also found quite a few documentaries about the ancient civilizations available on Kanopy, a streaming service offered by our local library.

Hands-On Activities
To finish off our current school year, I asked each of my children to choose a time period covered in the Ancient History Intermediate Pack. Both picked a couple hands-on activities listed in the Teacher Guide to whet their appetite for the coming year.
Our rising 5th grader wanted to learn more about the Ancient Egyptians. We checked out two supplemental books from the library, and then she built a LEGO pyramid for her LEGO mummy. As she worked, she told me all kinds of interesting facts she'd learned about the process of mummification.
Meanwhile, our middle schooler chose to discover more about the Ancient Greeks. She crafted a wreath of paper laurel leaves and sampled a gyro from the local Greek restaurant. The unit on Greek civilization will also tie in perfectly with the summer Olympics that will be taking place before the school year begins.

Connect with Your Kids
Since our oldest is starting high school in one short year, I'm excited for this chance to explore a new area of history with both of my children. We can use the Ancient History Intermediate Pack as a jumping off point to dive deep and learn together as a family. I hope they remember our years of learning history through literature the same way I remember my teachers reading aloud to me.
"I

like historical fiction a lot and so was very pleased when I saw a few books that were in that genre.

Adara

by Beatrice Gormley was particularly good. I enjoyed the part where she told the wife of Naaman about Elijah the prophet. I always liked that story, and I'm glad someone made a book about it."

A, age 12
---
If you are looking to connect with your kids with a flexible history curriculum, you definitely want to check out Beautiful Feet Books!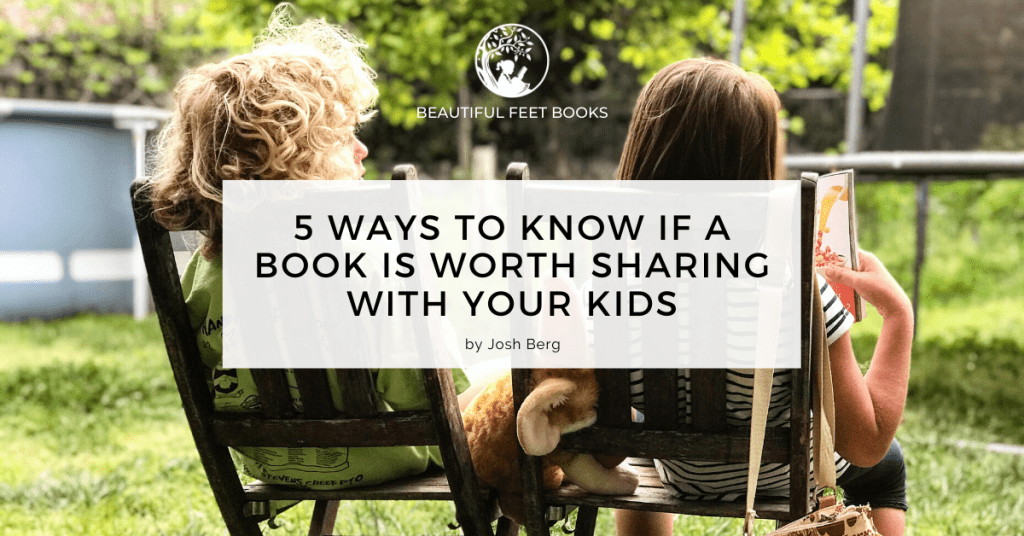 Enter the GIVEAWAY! 10 winners will receive a $100 store credit to use at Beautiful Feet Books.