Do your kids know how to type? Touch typing is a skill that all children need, and the Typesy homeschool keyboarding curriculum is the perfect way to learn to type!
I received access to the Typesy Homeschool Family package and was compensated for my time writing the review, but all opinions are my own! You can see our full disclosure policy here.
When I was in school, there was one program for learning to type. Can you guess what it was?
I was born in the late 70s, and we didn't get a home computer until I was in high school. But in sixth grade, I had to type a paper for English class using my sister's typewriter. That did NOT go well.
I suppose I took some type of keyboarding class in high school. Or maybe it was mixed into our computer skills class? I remember learning how to format our English papers in Word Perfect. (Does anyone else remember the blue screen with white text?)
At some point, I learned how to type by touch, which was far less common then than it is these days. It was like a party trick to be able to type whole paragraphs with my eyes closed!
Now, it's expected that children begin learning to type by touch in elementary school. Both of my girls did a keyboarding program when they were in 3rd and 4th grade. But recently, I've noticed that their touch typing skills have fallen off.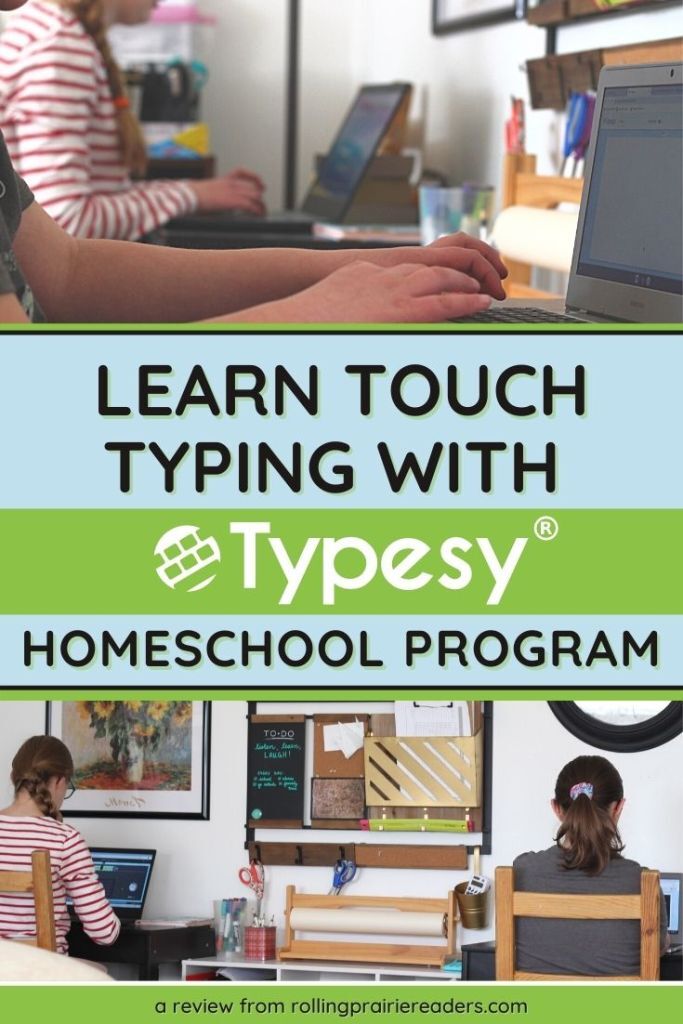 The thing is, touch typing is a skill that needs to be practiced. Without regular instruction and reminders, kids can fall back into bad typing habits.
TYPESY HOMESCHOOL KEYBOARDING CURRICULUM
My two children have been using Typesy's homeschool program for the past few months. As I mentioned at the beginning of the post, I have already seen positive changes in their typing posture, their accuracy, and their typing speed. One of my children loves creative writing, and I hear her tap-tap-tapping away every afternoon as she works on her stories. My other child prefers typing to writing by hand, and she is much more confident in her typing skills after just a couple of months.

Here's what I love about Typesy's homeschool curriculum:
It's a web-based typing program! All they need is their login information, and they're good to go on any one of our family computers. (We have one Chromebook and one laptop with Windows, so the kids tend to switch computers based on whatever task they're working on.) Their progress is stored in the cloud.
There are a variety of activities in each lesson to keep students engaged and having fun. From basic skills practice (transitioning from one key to another) to typing out complete sentences to playing silly games, kids move through each activity quickly with audio reminders, tips, and encouragement sprinkled in. While nobody wants to work on the home row keys for several lessons, at least Typesy makes it fun!
I have my own parent login so I can check on their progress, assign specific lessons, turn games on or off, and add personalized spelling/vocabulary lists for the kids to practice typing. I can see exactly how they spend their time on Typesy. From lessons to games, it's all tracked!
MORE ABOUT THE TYPESY HOMESCHOOL PROGRAM
As I mentioned, I have two students doing Typesy. Our "small family" package allows for four student accounts with five years of access.* This one-time-pay approach is fantastic for me, so I don't have to keep track of expiring logins. My kids can work through the entire curriculum at their own pace. No pressure to finish in one school year. (I would much prefer they take their time and build consistency instead of rushing through and forgetting everything they learned.)

* The large family package allows up to 10 student accounts for just $30 more.
The homeschool program was created for grades 2-10, so students can jump in at any time. I was worried that my kids would be frustrated starting back at the beginning after two years of another keyboarding curriculum, but they both love it!
In addition to the typing lessons, parents have the option to add on Common Core curriculum for each student.

Students can move from learning to type to typing to learn.

My fifth grader can learn about the U.S. government, states of matter, and early human history. My eighth grader can review forces and motion, the solar system, and the Civil War/Reconstruction.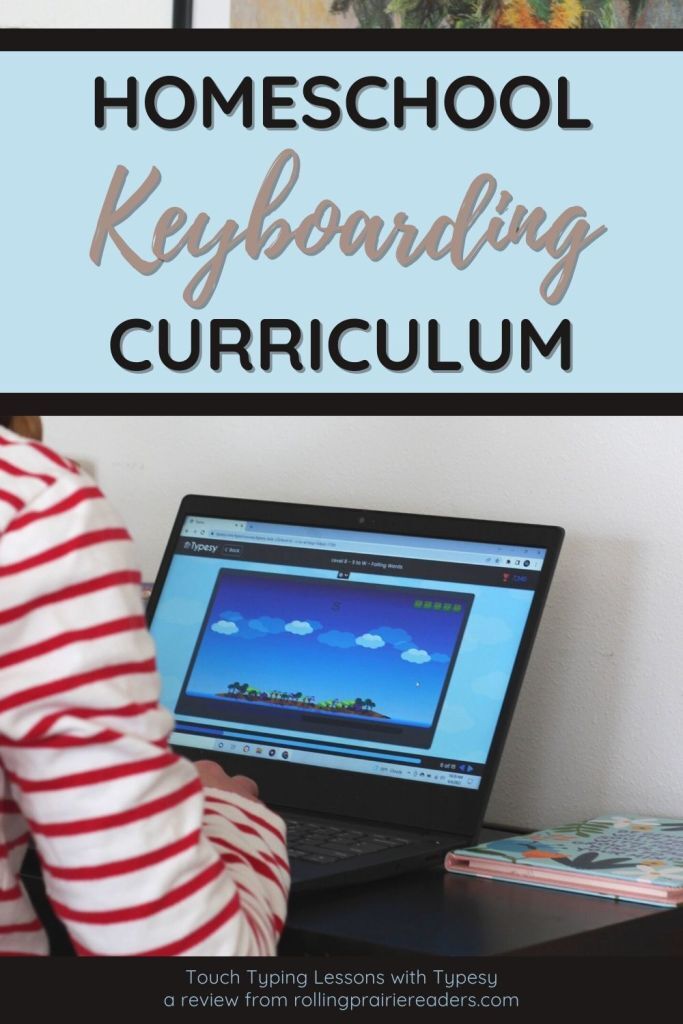 To learn more about Typesy's homeschool keyboarding curriculum, visit their website for all the details!
"I really like Typesy. It has cute characters, fun games, and typing techniques that help me remember where each key is. Although I've already learned how to type, Typesy helps me practice with engaging lessons, I think Typesy is great — to learn and to practice!"
— A, 13
"I like that Typesy is not competitive, but it is fun and repetitive, so it's easy to keep the location of the keys in your mind."
–K, 10