Are you a new homeschooling mom? Maybe you are considering preschool at home or you have decided to homeschool your Kindergarten or 1st grade student. It can be overwhelming: from curriculum to to socialization, everyone has an opinion. Creating a flexible, effective homeschool schedule doesn't have to be hard, though. Read on for a step-by-step plan to create a weekly homeschool schedule, and be sure to scroll down for our free printable template download.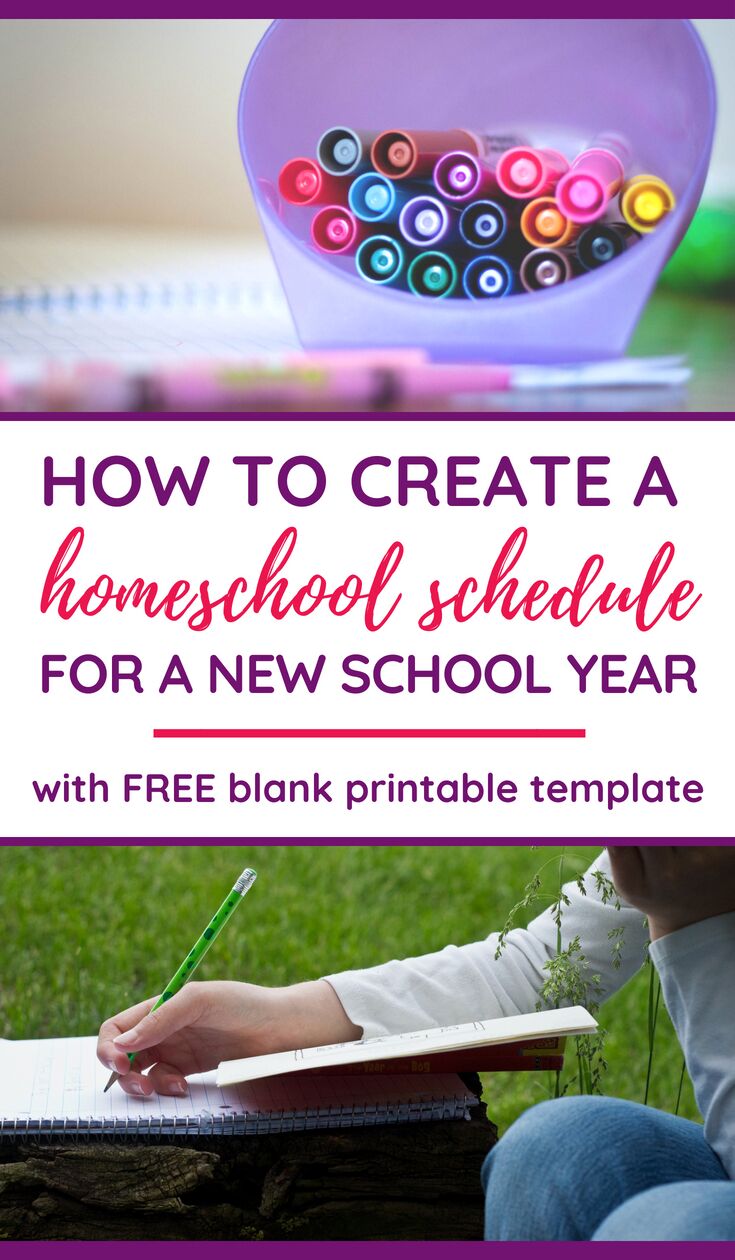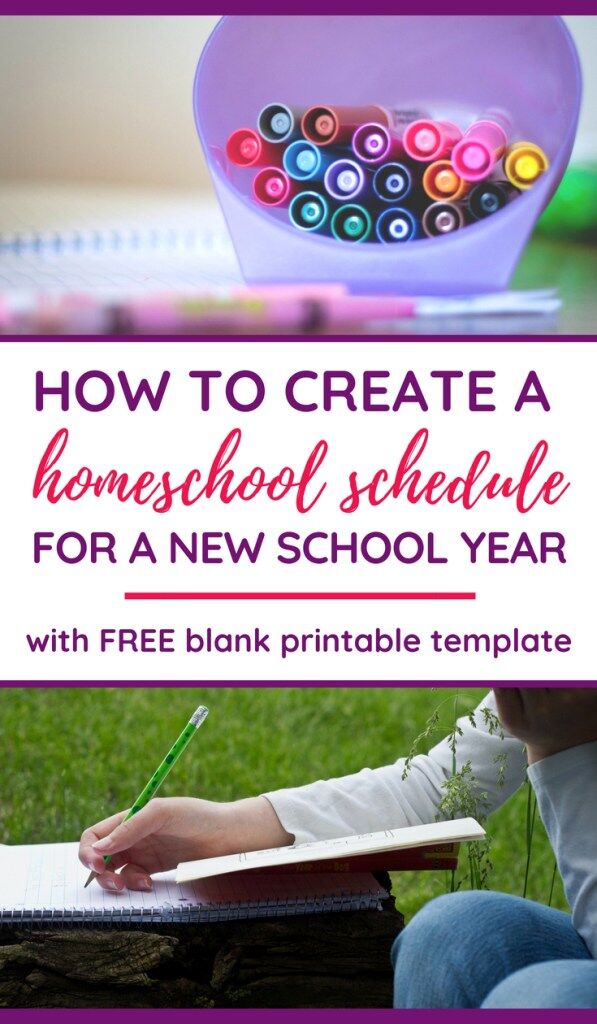 4 Steps to Creating a Homeschool Schedule
Identify Your Child's Learning Style
Every one of our children learn differently, and discovering how our children learn best can definitely impact our daily homeschool schedule. My own two daughters are both auditory learners which means we can "double-dip" — listening to memory work in the car or during play time. If you have kinesthetic learners, you can take some of your lessons outside for gym + math facts or spelling practice.
Click here for more about learning styles.
Determine Your Family Culture
Some families love to be on the go! In homeschool learning, that may look like co-ops, park days, sports and music classes, plus additional playdates and extracurriculars. While children can certainly learn outside of their home "school," be sure to take everyone's personality styles into consideration when setting up your weekly schedule. Since we have two introverts in the family, we try to alternate between "at-home" days and "activity" days.
Click here to learn more about personality styles.
Choose Your Subjects
A major benefit of homeschooling is combining multiple skills and subjects into one lesson. If you choose to use unit studies or interest-based learning, you'll be amazed by how much content you can cover in a shorter period of time.
We also don't have to teach every subject every day. We do math and spelling five days a week, but many other subjects can be covered with just one lesson a week! Since our girls are major readers, I don't "teach" reading every day. We cover phonics during spelling and comprehension during read-aloud and history lessons.
Map Out Your Weekly Homeschool Schedule Visually
When we were first getting started with homeschooling (seven years ago!), I struggled with the idea that our schedule varied from week to week. Using a homeschool planner didn't work for us, so I created a template that I could reuse week after week.
It really simple!
Print off the schedule template.
Fill in all "out of the house" commitments: classes, events, appointments first.
Add in family "cornerstones," like naps/rest time, meals, read-aloud time, etc.
Look the available pockets of time that are left, and see what lessons you can fit in. Remember that young children learn best through play, and the goal is not to finish every lesson in the book, but to master one new skill at a time.
---
Download our printable weekly template!
---
Example Homeschool Schedule
All summer long, we have done read-aloud time first in our day. For our fall semester, we decided to move read-aloud time (and other fun topics!) to after lunch. Since both girls will have a heavier workload this year, we've decided to do our core subjects immediately after breakfast, when we're all feeling our best.
Here's a peek at our fall homeschooling schedule:
Morning chores & breakfast
Classes will start at 9:00 a.m. (I'll start with K's lessons while A completes her independent work. Once K has finished, A and I will do math and grammar together.)
The girls will have lunch and outside time from noon until 1:30. I'll use most of that time for lesson-planning and blog-writing.
At 1:30, we'll come together for read-aloud time, music, art projects, and AWANA memory work.
From 2:30-3:30, the girls will have independent reading time, finish up any school work, and play quietly.
At 3:30, they'll be officially "dismissed" until dinner time.
We have gym class on Wednesday mornings, so our schedule will be a little different one day a week.
Making a homeschool schedule for your family may require some trial and error for a few weeks until you find something that feels comfortable for both you and your kids.
---
If you found this post helpful, be sure to click here to save it for later!