In May 2021, we took an epic family road trip: 10 days, 8 states, and 6 national parks! Thanks to our 4th grader, we were able to get free admission to each national park we visited around the western United States.
I can't remember when or how we learned about the national parks pass for fourth graders. We missed it with our oldest daughter, so I want to spread the word to other families with young children.
WHAT IS THE EVERY KID OUTDOORS PASS?
According to the national parks website, Every Kid Outdoors is a "federal public lands youth initiative to get all 4th graders and their families to experience the places that are home to our country's natural treasures, rich history, and vibrant culture… The immediate goal is to provide an opportunity for each and every 4th grade student across the country to experience their federal public lands and waters in person throughout the school year.
Every year, beginning September 1, all kids in the fourth grade have access to their own Every Kid Outdoors pass at www.everykidoutdoors.gov. This pass provides free access to national parks across the country."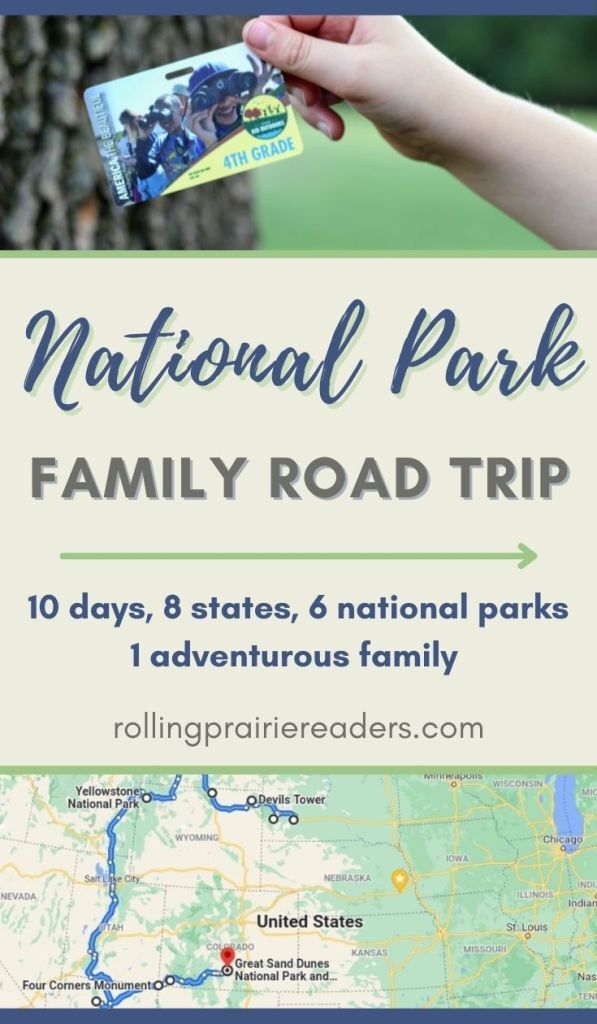 PLANNING OUR EPIC FAMILY ROAD TRIP
During "the year at home," we went all-out planning, making sure every family member got to choose one or two places to visit. We checked out lots of library books, streamed several national parks documentaries, and read a bunch of travel blogs.
Once we picked our main destinations, we chose our stopping point for each night. (We did stay in several hotels along the way, but we also camped out four nights of the trip.)
This basic framework gave us lots of freedom to take detours and add new stops along the way. Our final itinerary ended up looking like this:
Day 1: Badlands National Park, Mount Rushmore, Crazy Horse, Devil's Tower

Day 2: Bighorn National Forest

Day 4: Grand Prismatic Spring + Old Faithful, Continental Divide, travel to Grand Teton

Day 5: Colter Bay + Jenny Lake (Grand Teton National Park)

Day 6: travel day through Idaho and Utah, arrive in Arizona

Day 7: Horseshoe Bend, Grand Canyon National Park

Day 8: Four Corners, Mesa Verde National Park, Great Sand Dunes

Days 9 & 10: travel home through Colorado and Nebraska
---
DID WE GO TOO FAST?
Maybe. We spent a lot of time in the car and didn't have a lot of time at a few of the national parks. But we knew this might be our only family trip to the western U.S., so we wanted to see as much as possible with our kids. They can always go back for another visit when they are older.
---
Packing for a 10-day family road trip was intense. We experienced every type of weather, from snow in Wyoming to intense heat down in Arizona. We wanted to be prepared for every scenario AND we had to fit everything into our small sedan with two medium-sized kids. That's why we did lots of research and spread out our purchases over a number of months.

We camped four nights of the trip: once at a KOA campground in Montana, two nights at Colter Bay in Grand Teton National Park, and one night at Mather in Grand Canyon National Park. Each of these experiences had pros and cons, but they were definitely once-in-a-lifetime moments that we'll remember forever.
Check out our

list of camping essentials

to see which items made the final cut!
I'll be updating this post with links to our experiences for those of you who are planning your own national parks family road trip. We had such a fun time making memories, and it will be fun to share some of those with each of you!