All young children love all things related to transportation and vehicles. From airplanes to trains to school buses, toddlers and preschoolers are obsessed with things that go! These transportation books for kids are a great way to match early literacy skills to a topic children already love.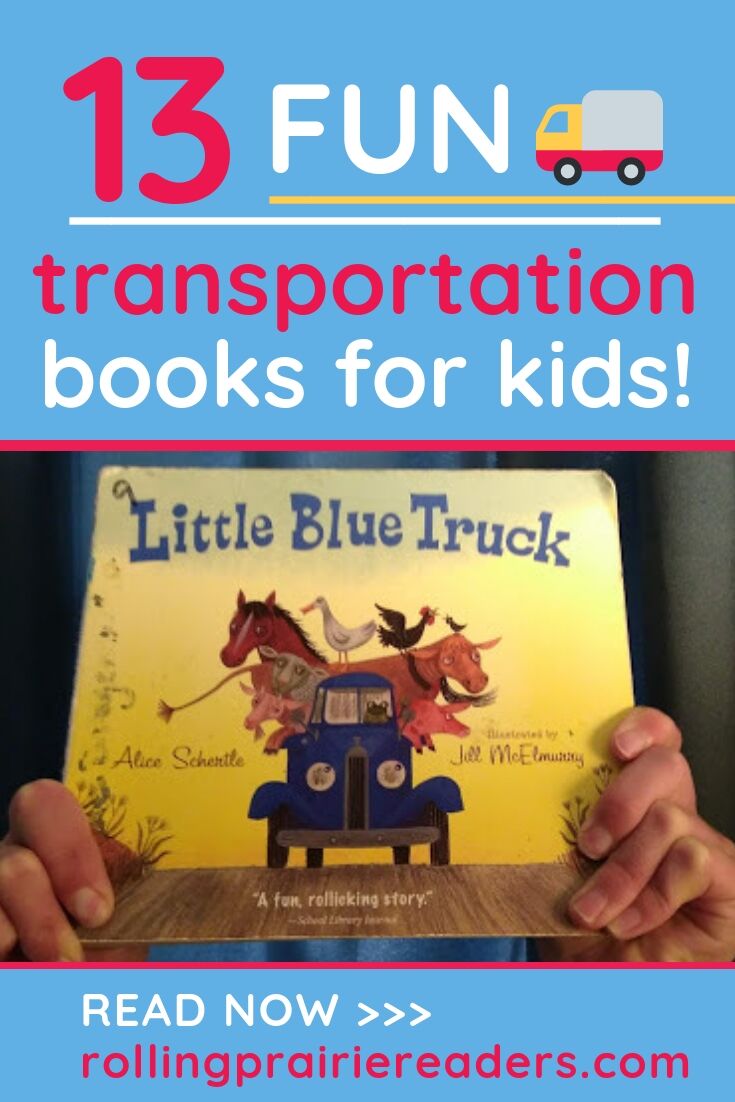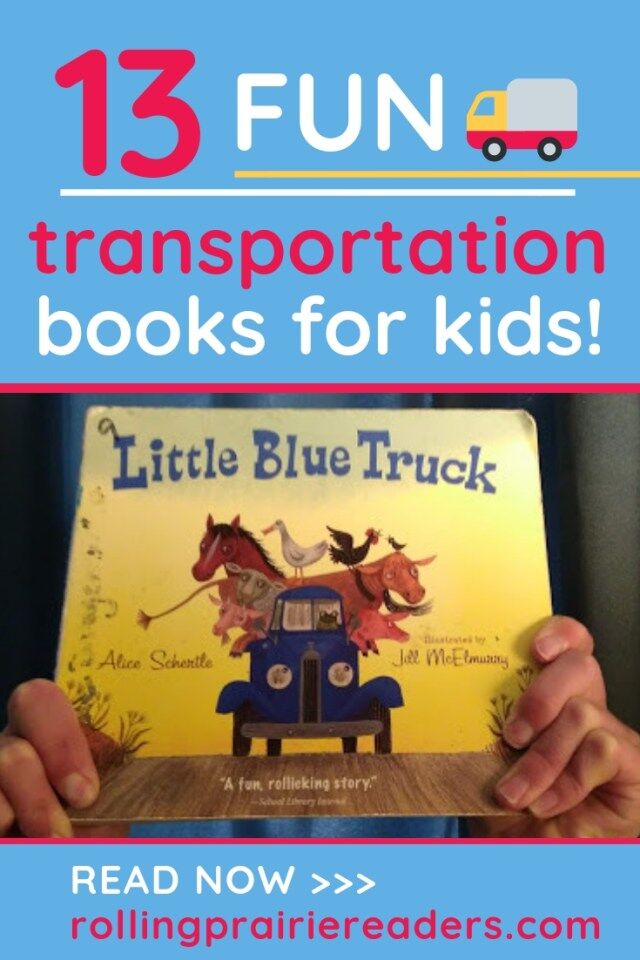 13 Fun Transportation Books for Kids
(Reminder: Rolling Prairie Readers uses affiliate links at no additional cost to you. You can see our full disclosure policy here.)
Bear Takes a Trip:
Where would you go on a trip?

Find all the things on each page that are round/have stripes/triangles/etc.

Spot the clocks. Discuss what time your family eats meals, gets ready for bed, participates in activities, etc.

Related:

Bear on a Bike
Little Blue Truck:
Why is the Little Blue Truck so happy?

How can we show kindness to others?

Make a related sensory bin with corn filler and farm animals. Add a little blue truck and yellow dump truck if you have them.

Everyone is dirty after helping the dump truck—give your child a small bowl of water and a washrag to clean his/her toy vehicles (or wash the family car together!).

Related:

Little Blue Truck Leads the Way
We All Go Traveling By:
Talk about the unique illustrations and set up a sewing station for older preschoolers to decorate a blue train car made from felt.

Take a walk/drive and discuss all the vehicles you can "spy" with your little eye. What sounds do you hear?

Listen to the story on CD.
---

---
More Transportation Books for Kids
My Bus/My Car (or any book by Byron Barton)
Freight Train/Sail Away (or any book by Donald Crews)
Curious George Loves to Ride by Margret Rey
I Read Signs by Tana Hoban
Red Light, Green Light by Anastasia Suen (great for opposites!)
---
JUST FOR FUN: Play "spot the sheep"—several books have sheep in the illustrations (Little Blue Truck, Bear Takes a Trip, We All Go Traveling By).
Read Where is the Green Sheep? by Mem Fox
---

Creating a transportation sensory bin for your child is a perfect way to connect play with early literacy!
Our latest sensory bin features characters from Little Blue Truck in a bin of unpopped popcorn. Our daughter loved filling and dumping the corn in and out of the trucks and re-enacting the story with our farm animals.
---
What are your favorite transportation books for kids?