Homeschooling can be exhausting, even for the most prepared, well-rested parent. Here are 7 tips for an introverted homeschool mom.
Are you an introverted parent considering homeschooling? Or maybe a new homeschooling parent who is tired (or grumpy) all the time?
I'll never forget how FREEING it was when I first learned about introversion! (You can read about that experience here.)
"It turns out that I am an EXTREME introvert. I think my tendency has definitely become more pronounced as I've gotten older, mainly because my "alone time" has been extremely limited by this thing called parenting.
When I was single and living by myself, I had lots of balance–interacting at work and plenty of social activities–followed by a night alone with a good book! When my husband and I were first married, our non-traditional work schedules left us some time apart, which I filled with a good book and my husband filled with singing in a chorus and a quartet. (Guess which personality type he has!)
Even after our first daughter was born, I still had "alone time" in the car going back and forth to work (listening to audiobooks, naturally) and while she was sleeping. But once I had two young children with different schedules and no outside job to go to, I was exhausted because I was never alone."
After a decade as an introverted homeschool mom, I have seven tips to make life easier, for you and your kids.
Before we get into those, I want to take a minute to say how much I LOVE homeschooling my kids. Before parenthood, I was a classroom teacher. Education is a huge part of who I am.
But, I didn't live with my students. They didn't come over for dinner or ask me to tuck them in at night. I was a single woman coming home to my cat every day after school.
As an introverted homeschool mom, I have had to learn how to balance my love for learning with my kids and taking care of my mental health.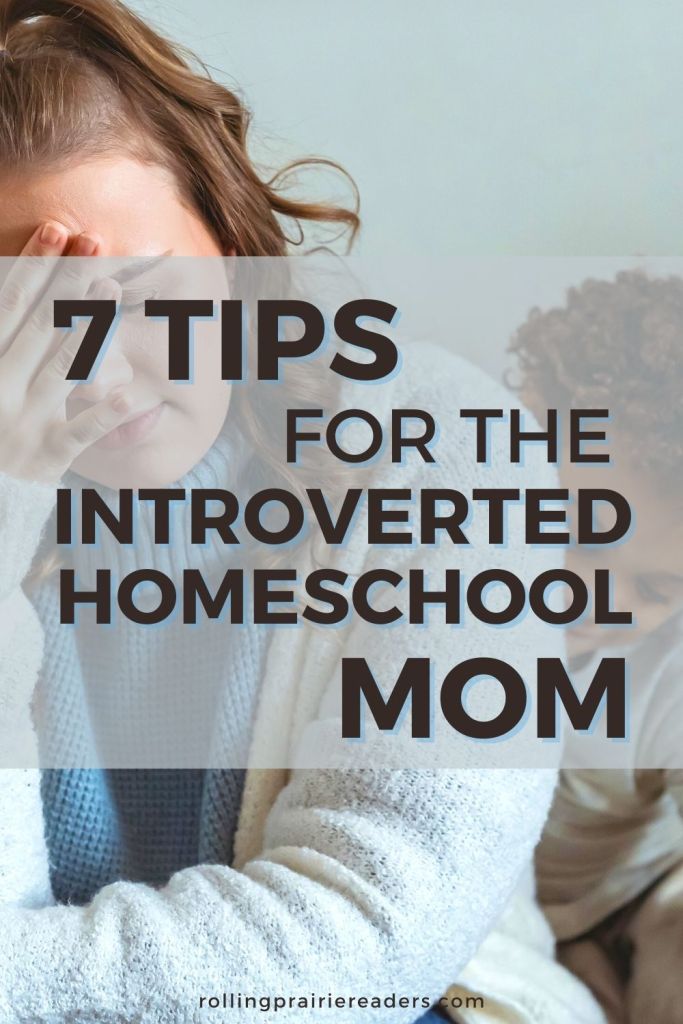 Introverted Homeschool Mom Tips
Start the day with quiet time.
Our kids have been following the same morning routine for years. That means I can take the first hour of the day to get myself ready for homeschooling.
We use a checklist so they can be independently responsible for getting their chores done before school without any nagging. They enjoy going at their own pace (and being silly at the breakfast table together).
Assign each kid a block of time.
I used to sit in the living room and let the kids come to me whenever they needed help with a lesson. Eventually, this turned into a "Mom! Mom! Mom!" situation that left my nerves feeling frazzled.
This year, both kids were assigned their own 40-minute block to come and ask me questions. One of my kids sits next to me while she completes her school work quietly, but the other one wants to talk the entire time. (She obviously learns better in a community setting.)
Take breaks throughout the day.
There are 10-minute breaks between each of our 40-minute blocks so I can go to the bathroom by myself, answer an email, or read a chapter of my book.
I also take a walk around the block while they complete their PE practice outside each morning. They can see me the whole time (and I can see them), but it gives me a chance to slow down my breathing and enjoy a few minutes of silence.
I am in the same room with my kids from 9 am until 1 pm while we do school. I notice I start feeling a bit anxious between 1 and 2 each day, which is why we started "quiet hour."
Now that my kids are done with naps, I retreat to my room for one hour every afternoon. Sometimes I sleep or read a book, but most of the time, I slip on my headphones and listen to a podcast or silence while I write in my journal.
Quiet hour works best when I come back out to the living room at the end and talk about what they've been doing. Sometimes, I come out with a joke or we play a game together before doing chores and meal prep.
Put alone time on the calendar.
I married the MOST understanding human on the planet. He knows that we are all happier when I have a consistent time to be alone scheduled on the calendar.
I used to go to the library for a couple of hours to work in silence, but for the past two years, he has taken them to the park while I stay home. They take a long nature walk, kick the soccer ball around, or ride their bikes for a couple of miles.
(Sometimes he even takes them camping at a nearby state park, giving me a whole night of silence! But I do start to miss them after 8 hours or so, and we usually all meet up for breakfast.)
Additional tips for introverted homeschool moms:
Sign kids up for drop-off activities.
For a couple years, both girls took choir together for one afternoon every week. They also participated in Wednesday night programs at church while we either had date night or took a parenting class together.
It's really hard not to get talked into teaching during this time, but it's important not to add another loud, chaotic thing to the plate. I volunteered to do an administrative task on a weekday instead, and the kids would tag along with their books.
If you do choose to participate in a co-op, plan for recovery time — for you and any of your introverted children!
This past year, we have done lots of online activities. Both of my kids have enjoyed taking classes on Outschool, and my older daughter is participating in a writing class with other middle schoolers. We also did a weekly Zoom book club for friends scattered around the globe last year.
If you are an introverted homeschool mom, please know that you are not alone! And you can tell that guilt-inducing voice to take a rest — there is nothing wrong with you. You can LOVE learning with your kids and still feel totally exhausted at the end of the day. Ultimately, it's all about balance.
If you have tips for introverted homeschool moms, I would love for you to leave a comment!