A few years ago, one of my online friends remarked that our family must live in a toy store. If you follow us on Instagram, you might think that's true! But what else would you expect from an early education advisor who believes in learning through play? It's true that we have hundreds of toys in our collection, but since we did preschool at home with our kids, I consider each purchase an investment in my girls' education. My friend was floored when I told her that our family of four (and all of our toys) resided in a very small, two-bedroom apartment. For five years, the only way to contain the kid clutter and maintain our sanity was our toy rotation system.
---


Click here

to grab our Toy Rotation Getting Started Guide!
---
Toy Rotation Tips
Toy rotation for babies happens naturally as your little one develops new skills. You'll find your baby outgrows toys at a pretty rapid rate–but don't get rid of them too quickly! You may be able to use a "baby" toy differently down the road.
Rotating toys is most effective for families with toddlers and preschoolers. You reduce clutter and make play spaces more appealing with fewer toys available at a time. Bonus: your child learns how to tidy up without a lot of help from mom!
Setting up your toy rotation system might take a few days. Try not to mind the mess while you're working–you will save so much time and stress down the road, I promise.
Children don't need access to every one of their toys all at once. After a few weeks of toy rotation, you will see stronger attention spans, more creative play ideas, and increased confidence when it comes to cleaning up after play.
---
---

Step by Step Process
Set aside a day or two to complete this project.
Purchase a few bins to store toys when not in use. I love the TROFAST boxes from IKEA because they stack nicely and help you contain the chaos. You'll also want some quart-size and gallon-size zipper bags.
Gather ALL of your child's toys in one room. If you can do this without your child, great! If not, just be prepared for a big mess. Remind yourself it will be worth it in the end!
Purge the toys your child has outgrown, the toys you can't stand, and the toys that are broken/missing pieces.
Sort your child's toys into groups or categories. (See below.) You may find you have WAY TOO MANY of one type and see a category that is lacking. That's okay. You'll be more intentional when shopping for gifts in the future!
Choose one toy from each category to start your toy rotation system. Arrange those toys in your designated play area. Everything else will go into toy storage.
Decide which items you want to leave in their boxes and which toys can be fit into zipper bags. (I really only saved boxes for toys I thought I might want to resell in the future.)
Organize your storage area and talk with your kids about the new toy rotation system. Decide how often you'll want to switch out toys and if your kids will be involved in the choosing. (I was pretty flexible about letting my kids trade a toy for another in the same category during the week because it didn't happen often.)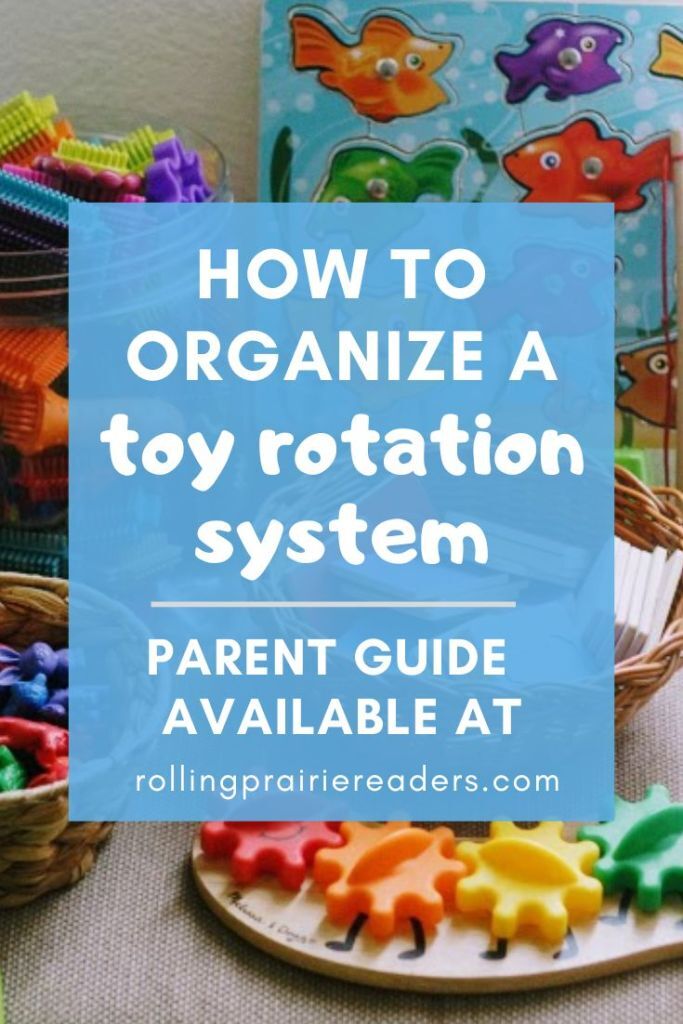 Toy Rotation Categories
Once you have gathered all of your child's toys, it will be easier to choose categories that work for your family. Here are some ideas for you:
games & puzzles
building toys (blocks, LEGO, etc.)
transportation
fine motor/visual toys
imaginative activities (dress up clothes, play kitchen)
arts & crafts
educational toys
Note: some of your toys will fit into multiple categories. (THAT'S GOOD!)
When we first started toy rotation, I usually grabbed one toy from each category. As we got more comfortable with our system, I got much more flexible about mixing and matching. As you can see in the images, one of our favorite activities was the color bowl, a mish-mash of toys that had nothing in common except for their color. I was amazed by the creative ways that my girls started to play and how LONG they would stay engaged and focused on one activity.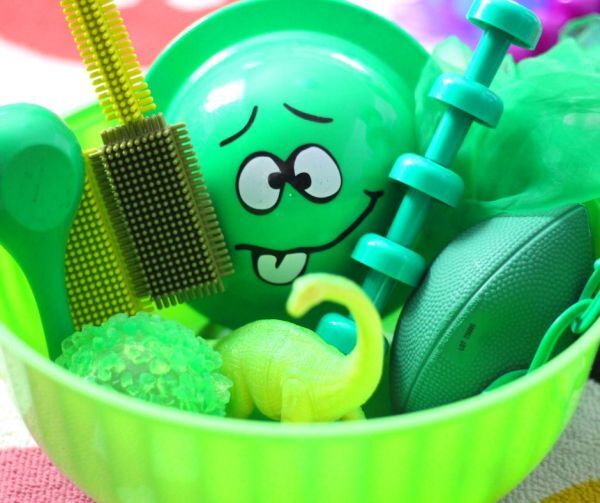 What did we do with all the other toys — the ones off rotation? Excellent question!
You can learn all about our toy rotation storage and organization in our Getting Started with Toy Rotation Guide. Grab yours here for just $1!